The following guide walks through the process of uploading videos & images directly from the Pilot One onto your asset library.
Step 1: Select "Upload Assets" option
After associating your Pilot One 360 device to your host account, selecting the Upload Assets orange button will open a directory of media files recorded from the "Camera" application.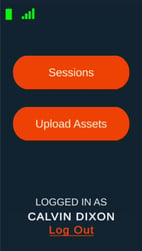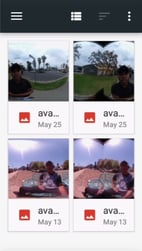 For offline recordings, we recommend using Stitched Video Mode

and a 4K Quality Priority (3840x2160@24 fps) or 6K (5760x2880@15fps) resolution for the best results. Please see our offline recording guide for recommended settings.
Step 2: Select files for upload
Pressing the three lines in the top left corner will allow the user to filter media type by Images, Videos, Recent, and Downloads.
If using the correct offline recording settings, files should be located in the Stitched folder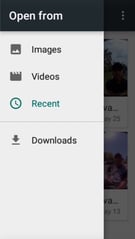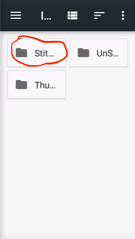 Step 3: Uploading to Asset Library
Clicking the icon of the media you would like to add to your asset library will trigger the upload screen with a loading circle as shown below.
Upload times are dependent upon the size of your video file and the bandwidth of your connection. 360 video files are quite large, often >1GB, and depending on your connection they may take significant time to upload.
Upon upload completion, your status will update to DONE and enter processing status.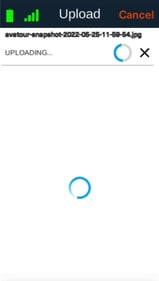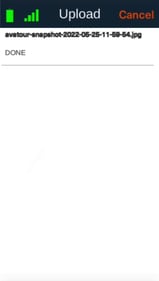 Step 4: Processing
Once uploaded, your file will be automatically processed. 360 images are processed almost instantly, but 360 videos take time for transcoding into multiple versions for effective streaming.
Processing times for an asset depend on the duration of the video. A 6K video of 5 minutes duration typically takes around 45 minutes to process. When there are a large number of assets uploaded (>5) at once, the requests are queued up and the processing times may be further delayed due to platform resources being busy.
To check processing status, you can use a web browser to visit the "Assets" section of your Avatour account. Processing percentage and the estimated time to completion can be found there in your asset library
If you run into issues with the steps above, please reach out to us at support@avatour.live