The following guide reviews the login process required for Pilot One users of Avatour
When unboxing your new Avatour setup or if updated to release 2.8 or higher, Pilot One users will notice that a 6 symbol code from your 360 device is now required to be associated with your host account. The guide below provides a walkthrough of the necessary steps to obtain access to your sessions.
Avatour - Device Login for Pilot One Users
Step 1: Launch Avatour app
After powering on your Pilot One 360 device and launching the Avatour app, the Device Login screen will appear with your 6 symbol pairing code as shown in the image below

Step 2: Launch Avatour Host Dashboard
Log into your Avatour Host Dashboard account via a web browser and navigate down to the Device Login option from the left-hand menu.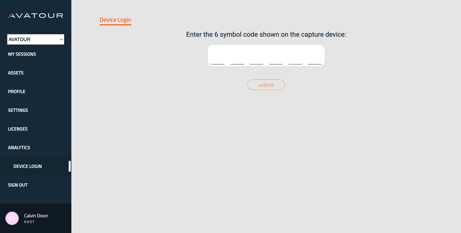 Step 3: Enter and submit 6 symbol code
Match the 6 symbol code as displayed on your 360 capture device followed by pressing the orange Submit button.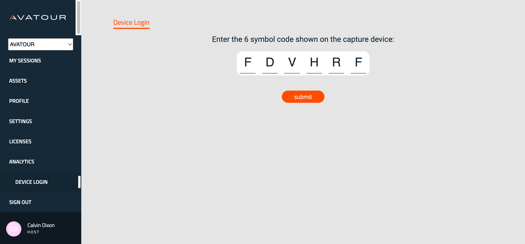 Once accurately inputted and submitted the following message will appear under Submit

Step 4: Press "Reload" on the Pilot screen
The final step would be to press the orange Reload button on the capture device screen after successfully submitting the code. Pressing this will bring up the main Avatour screen where Hosts can choose between hosting sessions, upload offline assets, and see their account name at the bottom of the screen as shown below.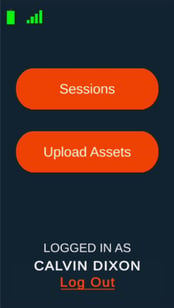 If running into any difficulty with following the steps above please reach out to us at support@avatour.live