Avatour is currently available for the Pilot One as a fully integrated solution. Here's how to install Avatour onto your Pilot One the first time.
Option One: ADB
Google's ADB app enables the installation of apps on Android devices connected via USB cable. This is the recommended method for installing the Avatour app.
Set your Pilot camera into Developer Mode.

Register for a PilotID account on the Labpano website. (Approval is required, it takes a day or two.)
Connect your Pilot to Wifi.
Choose "Pilot ID" from the Settings menu on your Pilot, and log in using your approved PilotID account.

Download the current version of the AVATOUR Host APK from https://install.appcenter.ms/orgs/avatour/apps/avatour-host/distribution_groups/public
Install the Google ADB app on your computer. Here's a good tutorial on how to do this.
Use ADB to install the Avatour Host APK onto your Pilot device.

Connect your computer to the Pilot using a USB-C cable.
Open a Terminal (MacOS) or Command (Windows) window on your computer, and navigate to the directory where you installed ADB.
Enter this command:
adb devices
You should see confirmation that a device (the Pilot) is connected. If no device is listed, check your cable. You need a USB-C sync cable - capable of delivering data - not just a charging cable.
To install the APK, enter this command (replace [filename] with the path to the APK file on your system, for example: C:/Downloads/com.imeve.avatour.host.android-0.5.20-pano-release.apk)
adb install [filename]
After this initial install, subsequent updates to the Avatour app will be pushed to your camera automatically whenever the app is launched while connected to the Internet.
Option Two: Pilot Install Service
Installing using this method will disable Avatour's automatic-update functionality. As a result, installation via the ADB method above is strongly encouraged.
Make sure your Pilot One and your computer are connected to the same internet network, with no weird firewalls.
Download AVATOUR Host APK from https://install.appcenter.ms/orgs/avatour/apps/avatour-host/distribution_groups/public to your computer
Ensure your Pilot One firmware is up to date (no pending updates under Settings->System Updates)
Open Settings->Applications and press the Install App button
5. Follow the instructions shown on the Pilot screen
6. Open a web browser on your computer, and type in the address shown on the Pilot. You should see the below screen: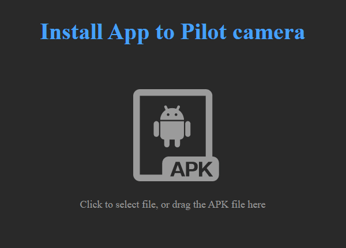 7. Click to select or drag the Avatour APK file into the browser window. You should see the transfer process begin. (Don't worry if the Pilot screen turns off, installation continues nonetheless.) When the APK is transferred, you'll see the below prompt. Click "Install" to begin installation.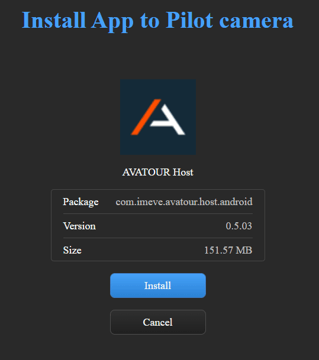 After install is complete, you should see the following confirmation screen.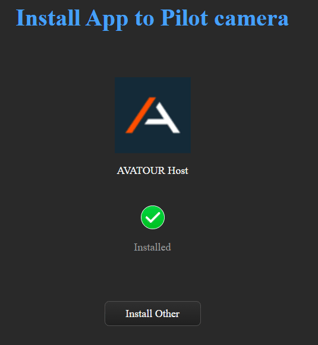 8. Once the AVATOUR Host is installed, click the hardware button on the camera to exit the install procedure, and then launch Avatour by tapping the corresponding icon on the Home screen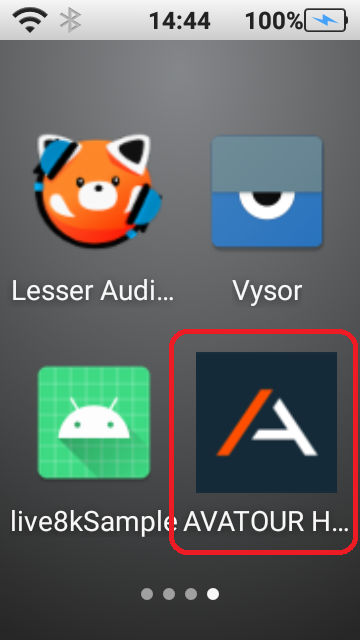 9. If the device is not pre-registered, you will see the registration prompt. Press the Register button and share the displayed authorization code with an Avatour representative