Avatour is currently available for the Pilot One as a fully integrated solution. Here's how to install Avatour onto your Pilot One the first time.
Option One: Download and Install using Chrome on Pilot (Recommended)
Follow the steps outlined in this video for first time installation of the AVATOUR app on Pilot. In-app updates will ensure your app stays current thereafter.
CAUTION: If you have installed the Avatour app by other means before using this installation method, your MUST delete the app first from the Settings / Applications menu before following the instructions below.
Open Settings
Scroll to the bottom of the screen and select About
Press and hold Pilot OS logo for 10 seconds
Launch Chrome Browser
Navigate to https://avatour.live/pilot.apk
Download apk file
Open Installer

Proceed to install AVATOUR for Pilot. (You may be prompted to install updates)

Open AVATOUR app after installation

Click the Gear icon for Settings
About section will confirm version information
If the device is not pre-registered, you will see the registration prompt when you first launch the app. Press the Register button and share the displayed authorization code with your customer success manager or by email support@avatour.live.

Option Two: Pilot Install Service
Installing using this method will disable Avatour's automatic-update functionality. As a result, installation using the method above is strongly encouraged.
Make sure your Pilot One and your computer are connected to the same internet network, with no weird firewalls.
Download AVATOUR Host APK from https://install.appcenter.ms/orgs/avatour/apps/avatour-host/distribution_groups/public to your computer.
Ensure your Pilot One firmware is up to date (no pending updates under Settings->System Updates)
Open Settings->Applications and press the Install App button



5. Follow the instructions shown on the Pilot screen



6. Open a web browser on your computer, and type in the address shown on the Pilot. You should see the below screen: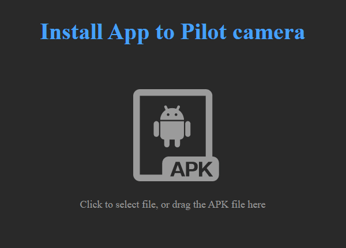 7. Click to select or drag the Avatour APK file into the browser window. You should see the transfer process begin. (Don't worry if the Pilot screen turns off, installation continues nonetheless.) When the APK is transferred, you'll see the below prompt. Click "Install" to begin installation.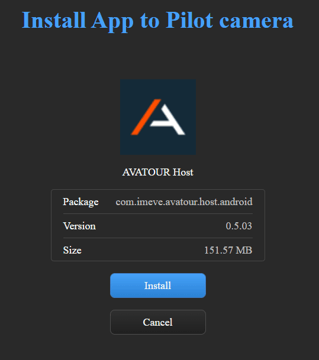 After install is complete, you should see the following confirmation screen.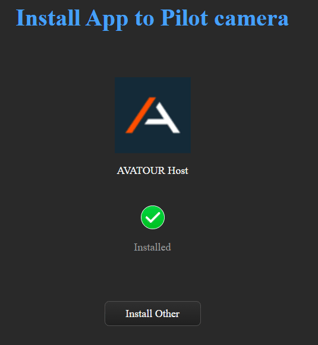 8. Once the AVATOUR Host is installed, click the hardware button on the camera to exit the install procedure, and then launch Avatour by tapping the corresponding icon on the Home screen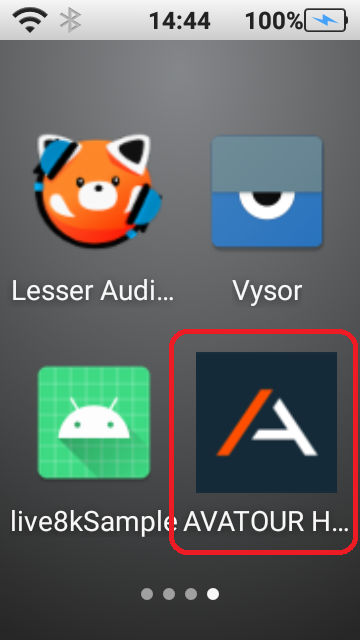 9. If the device is not pre-registered, you will see the registration prompt. Press the Register button and share the displayed authorization code with an Avatour representative
My automatic updates are not working. How do I reset the app on my camera so updates are automatically applied ?


Delete the existing AVATOUR app from your Pilot Camera by navigating to 'Settings -> Applications ->AVATOUR' and clicking 'Uninstall'
Follow the steps in Option 1 above for a fresh install of the AVATOUR app.