The following guide provides an overview of the topics reviewed during an Avatour Operator Training call
Capture Kit Setup and Assembly
The guide below walkthroughs assembly and initial setup steps for your 360 camera and mount during unboxing.
Bluetooth audio options and pairing
The following tutorial walks through Bluetooth options that are compatible for your Avatour setup and steps for pairing.
Feature: Present options
Option 1: Secondary Camera Feed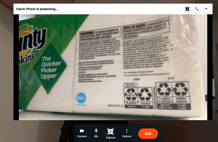 The first option under the Present menu is "Camera". Clicking this inside of a web browser maximizes that Guest user's web/mobile camera feed for all participants in the session.
Option 2: Desktop Sharing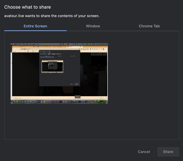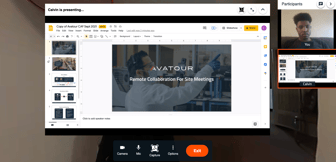 The second option under the Present menu is "Desktop". This mode is available when inside of an Avatour session on a desktop web client (Chrome, Firefox, Safari) and allows users to choose between sharing their entire screen, a specific application window, or a dedicated tab
Option 3: Assets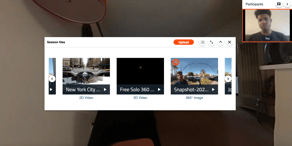 The third and last option in the Present menu is "Assets". This option allows for offline recordings, 2D and 360 images and videos, and saved captures to be played in an Avatour session.
A more comprehensive guide on these options can be found at this link.
Internet Connectivity
If using a hotspot provided by us, this connection should arrive paired and setup. However if not the case or if using a Wi-Fi/alternate connection, the following video will guide you through accessing your network.
We highly recommend running the Avatour Network Test prior to connecting to verify network compatibility as well as reviewing the networks requirements guide with your IT professional to ensure no firewall/access issues prior to running a session. Please contact us if any issues with this process or when planning to use Avatour in a new location.
Accessing the Avatour Host Dashboard and Creating Sessions
The following video walks through the desktop version of the Avatour Host Dashboard and how to create sessions/calendar invites.
Offline Recording and Asset Uploading
The following guide walksthrough how you can use your 360 camera to record content offline and upload it to Avatour assets library.