Below is a breakdown of the three options currently available when using the Present function inside of an Avatour session
Option 1: Secondary Camera Feed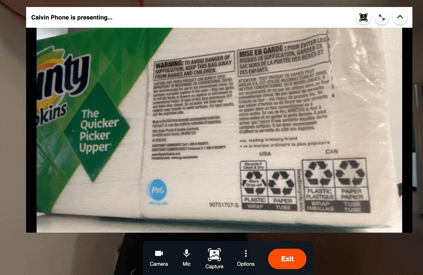 The first option under the Present menu is "Camera". Clicking this inside of a web browser maximizes that Guest user's web camera feed for all participants in the session. When using this feature on a mobile device, you are given the option of streaming your front-facing or the back camera. In addition, this mode should work with USB document readers.
This tool is helpful for cases when small text and labels that require additional zoom and clarity are needed.
Option 2: Desktop Sharing
The second option under the Present menu is "Desktop". This mode is available when inside of an Avatour session on a web client (Chrome, Firefox, Safari) and allows users to choose between sharing their entire screen, a specific application window, or a dedicated tab. This option is helpful for sharing outside material such as powerpoints, websites, and applications with the other users in the session.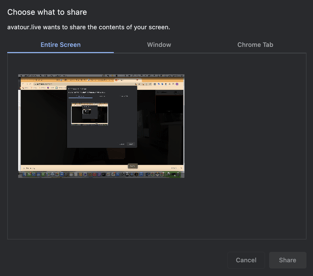 Once selected you will see the pop-up shown below that will share your screen with other users. Please note that this mode can only be exited by the person sharing through pressing the X in the top right corner.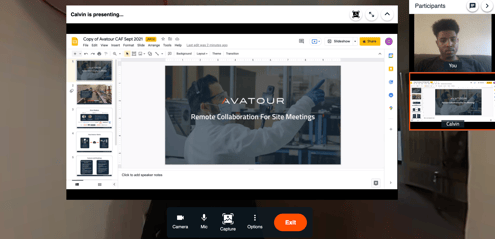 Option 3: Assets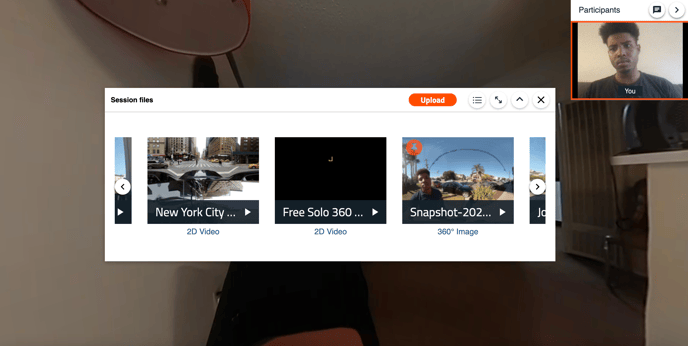 The third and last option in the Present menu is "Assets". This option allows for offline recordings, 2D and 360 images and videos, and saved captures to be played in an Avatour session.
To use this mode, the Host user would need to log into their Avatour Dashboard, followed by uploading the files, then selecting them for viewing when creating the session. A full guide on this process including offline recording specifications can be found in this article.