Bluetooth devices provided by Avatour are typically shipped pre-paired by our team. The following guide details next steps if needing to reconnect or pair a new device for Avatour use.
The video above highlights the connection process for both the Jabra Evolve2 65 headset along with the Bose SoundLink Micro speakerphone. This process should work with most Bluetooth enabled devices. Please note for any device to pair successfully, the Bluetooth adapter must be connected to the camera with the light illuminated on the attachment piece indicating that it is ready to pick up a Bluetooth signal.
If you run into issues with the process detailed above, we recommend the steps below to troubleshoot this process
Option 1: Factory Reset
Bose SoundLink Micro:
Step 1: Power on the speaker
Step 2: Press and hold the Power button for 10 seconds. The Bluetooth light should then blink blue and a voice prompt which indicates a full reset
Step 3: To re-enter pairing mode, press the Bluetooth button for 5 seconds with the device powered on until a blinking blue light is present
Jabra Evolve2 65
Step 1: Power on the headset
Step 2: Simultaneously press and hold (3 seconds) the Multi-function and Volume up buttons on the right earcup, until the LED lights purple and you hear an announcement in the headset.
Option 2: Manual Pairing
While pairing devices without a PC and software should be possible, if still running into issues after factory resetting manual pairing will be the next course of action.
Step 1: Download and Install Jabra Direct software onto your PC or Mac
Step 2: Connect the Jabra Link 380 attachment dongle

directly to an available USB C port on your laptop
Step 3: Launch Jabra Direct software and navigate to Bluetooth tab.
Step 4: Locate the Jabra Evolve2 65 or Bose MicroSoundlink from the paired devices menu or by searching for the device using the Search button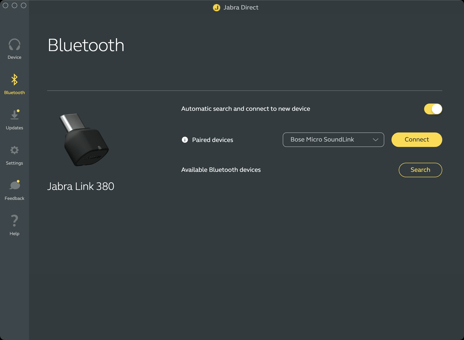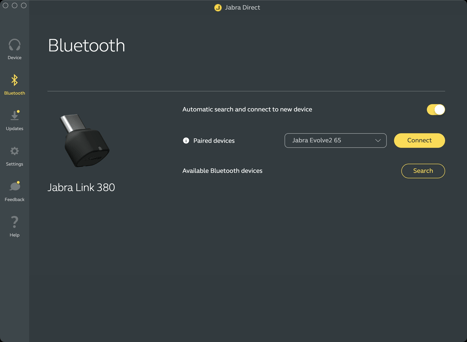 Step 5: Press "Connect" to pair these devices
Step 6: Discconnect from PC and reattach the Jabra Link 380 to the adapter. This connection should be saved for future access.
If issues still remain after trying these steps please reach out at support@avatour.live for additional support from a member of our team